Chain Saws (Professional)
Professional top handle and balanced design chain saws
RRP €691
Special Offer Price €499.00
Light compact saw for the tree maintenance. Ideal power to weight ratio. Accurate guidance and outstanding cutting performance. Optimum ergonomics and handling. This arborist saw has been specially designed for professional tree surgeons and is only intended for use by trained tree service personnel.
---
RRP €1152
Special Offer Price €695.00
Powerful, light arborist chainsaw.
Up in the trees, different rules apply. Weight matters, there's no margin for error and the arborist needs a chain saw that's quick, easy to start and gives the performance they expect. The STIHL MS 201 T retains all the familiarity of the leading MS 200 T as well as already meeting EU II emissions limits for 2014. Designed to improve productivity, performance and comfort, this powerful pro arborist saw provides a 15% better cutting performance, 20% improved fuel consumption, 100% longer filter life and a higher power to weight ratio compared to its predecessor. It also has noticeably lower vibrations, with the right hand figure reducing to 3.1 m/s2. It's a real professional – just like the arborists who it's designed for.
---
RRP €958
Special Offer Price €649.00
Excellent for harvesting thin wood, with more powerful engine performance at a low weight. Standard-fitted with STIHL M-Tronic (M), long-life air filter system with HD2 filter requires only occasional cleaning, captive nut on the sprocket cover, economical 2-MIX engine, 3/8″ PS saw chain for very high cutting performance.
---
RRP €1102
Special Offer Price €699.00
Reducing emissions by 50% as compared to previous models, the STIHL MS 261 chain saw's innovative engine technology is less harmful to the environment. The reliable engine also provides up to a 20% increase in fuel efficiency, resulting in longer periods of use between refueling. The compact, space-saving design of the split-barrel carburetor and the stainless steel muffler reduce overall weight, making it ideal for professionals.
---
RRP €1230
Special Offer Price €845.00
This model has several operator-friendly components, including a side-access chain tensioner, toolless fuel and oil caps with retainers, and a translucent fuel tank. Captive bar nuts are retained in the sprocket cover to prevent their loss and are designed for self-guided mounting. Pre-separation air filtration provides greater air cleaning efficiency and longer run times between filter maintenance.
---
Special Offer Price €1125.00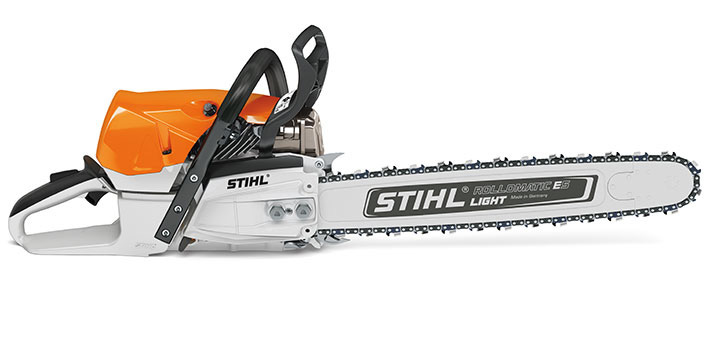 The lightest high-performance saw in the 70 cm³ cubic capacity class. Extraordinarily easy to manoeuvre, with outstanding acceleration. For felling and pruning in medium-density and high-density stands. Fitted with M-Tronic as standard; HD2 filter with very good filtering effect. Captive nuts on the sprocket cover make it easy to change the chain; tool-free fuel caps for easy and safe filling with fuels and lubricants; economical 2-MIX engine.
————————————————————————————————————————————————————————————————————————————-
RRP €1801.00
Special offer price €1275.00
First ever chainsaw with STIHL Injection Technology. The best power-to-weight ratio on the market, and the simplest operation. Ideally suited for the harvesting and processing of large timber. All thanks to its unique lightweight design and outstanding acceleration. New bumper spikes, HD2 filter, captive nut on the sprocket cover for easy chain change, controlled-delivery oil pump, and tool-free fuel cap for safe and easy filling with fuels and lubricants.
---
_____________________________________________________________________________________________________
RRP €1680
Special Offer Price €1150.00
Very powerful high-performance saw with advanced 2-MIX technology and STIHL M-Tronic (M). This electronic engine management system regulates the ignition timing and the fuel supply and automatically registers the external temperature for optimal engine performance, great acceleration and sustained maximum torque. Extremely robust and durable with low vibration levels. Designed for professional use within forestry and big timber harvesting.
---
RRP €2062
Special Offer Price €1475
The most powerful series-produced chainsaw in the world. Decompression valve and STIHL ElastoStart ensure an effortless chainsaw start, HD2 filter guarantees a long filter life, tool-free fuel cap for safe and easy refuelling.
---
Powerful top-model for professional tree maintenance
RRP €1224.00 Offer price €799.00 
 Pole pruner with an ideal power to weight ratio for powerful cutting work in orchards and professional tree maintenance. Lightweight, compact transmission with captive nut on the sprocket cover, maximum cutting performance due to the 1/4″ PM3 saw chain, 4-MIX® engine with simplified start system. Highly ergonomic and very stable due to the reduced weight of the square-cut telescopic shaft. Total length: 270 – 390 cm.
---